Study in Korea
Annyeong haseyo! Do you want to study in Korea? We can help you! Here you will find information about schools, costs, how to apply, Korean language, scholarships, working in Korea etc.
I have worked with Korean Universities since 2010, visited many schools around the country and helped hundreds of students to study in Korea. It is a fantastic country to experience and study in. In this article, we will try to answer all the common questions about this exciting study destination. Don't hesitate to fill out an info request form if you want help to study in Korea.
Schools and educational system in Korea
How much does it cost to study in Korea?
Korean language and the TOPIK-test
Student visa to study in Korea
Scholarships for studying in Korea
Insurance when you study in Korea
Can you help me to study in Korea?
Summary – how to study in Korea in 7 steps
Why study in Korea?
During the last ten years, Korea has become one of the most popular destinations for international students studying in Asia. It is attractive, trendy, and has a lot for a newcomer to indulge in and explore.  We see a "Korea Wave", a global phenomenon, with the increasing popularity of K-pop, Korean-dramas, and Korean fashion. Apart from the pop culture influence, Korea is the leading force in the digital technology industry, being one of the most innovative countries with a highly Internet-connected society.
For a food lover, great Korean food is not restricted to the high-end restaurants but can also be easily found from its vibrant street vendors. Food in Korea is not only price friendly, but also healthy and rich in taste. In Korea, traditional Confucianism from ancient China meets the influence of American and Japanese modern culture.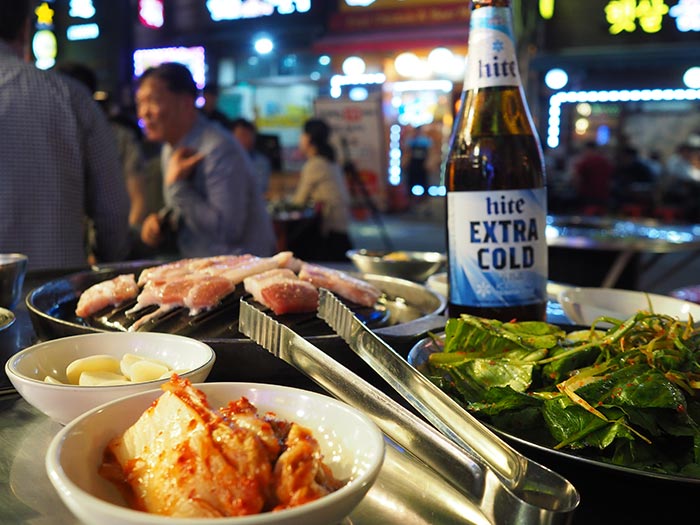 There are also a lot of practical factors that make studying in Korea a great choice: living costs are cheaper than in many other developed countries, the tuition fees are reasonable and affordable. With its economic and political upheaval, modernized Korea is famous for its good quality of education and a high standard of health care. It is a safe and secure country with good travel connections to neighboring countries. Trips to China, Japan, and the rest of Asia on weekends or holidays add more perspective to the experience of living and studying in Korea.
Schools and educational system in Korea
Educational system
As in most countries in the world, Korean students need to finish 12 years of schooling through primary school (6years), middle school (3years), and high school (3years) to enter tertiary education at universities and colleges. As in the US, universities offer 4 years bachelor degrees and 2 years master programs followed by doctoral programs. There are also vocational schools and junior colleges with a lower threshold of admission. 
An academic year in universities has two semesters: spring semester from March-June and fall semester September–December. Semesters are usually 15 weeks long.
Study options for international students in Korea
To study in Korea, international students can choose from the following options:
1-2 study abroad semesters taught in English as a visiting student (if you are enrolled in a university in your home country).
Korean Language programs short summer courses or 10-60 weeks semester programs at Korean universities. Read more about studying Korean language courses in Korea.
Degree programs taught in Korean and/or English covering a wide range of subjects.
Korean language is essential for culture integration. Without knowing Korean language daily life in the local society is difficult and inconvenient. Knowing Korean at Topik 3 level or higher is often a prerequisite for degree programs in Korea since even degree programs taught in English often include some classes taught in Korean
Therefore most international students start their studies in Korea with language learning at the Korean Language Institute (KLI) of one of Korea's many universities. There are also a few private Korean language schools, but unlike the university KLI's private language schools cannot sponsor a student visa. So if you want to study in Korea for three months or longer the universities are your best bet.
Korean language programs in universities consist of 4 quarters a year (Spring, Summer, Fall, Winter), with 10 weeks each quarter. You usually have language classes 4 hours per day (either in the morning or afternoon), five days a week. We will talk about Korean language levels and how to reach those levels later in this article.
We can help you with language courses, study abroad semesters and degree programs in Korea! Fill out an information request to get help.
When and how to apply?
Most universities recruit twice a year, 4 months prior to the commencement of the semester for university courses. Language course applications are usually more flexible, starting quarterly or even more frequently with simpler application procedures. There is no central admission authority in Korea, so each school set their own deadlines, which can be found on the school's homepage. Some universities accept applications online nowadays, making the procedure efficient and easy to monitor the progress, but many schools still insists on more primitive paper applications. 
Here we list the general procedures and application document lists for language courses and degree courses respectively for your reference, but it is important to keep in mind that each school may have their own specific requirement.
Korean Language Program application
Application Procedures:
Application submission deadline: 1-3 months prior to the start date
Application screening
Tuition fee payment
Admission approval
Visa application
Example of Admission documents:
Application form
Passport copy and profile photo
Bank statement  (US$ 10,000 or more)
Diploma / degree copy of the highest level education
A personal statement
Proof of Foreign student insurance
Application fee
We can help you apply to study Korean in Korea at selected schools and universities. Fill out an info request for more information or read more on the page of the Korean school that you are interested in.
University program application
Application Procedures:
Application submission deadline: 4 - 5 months prior (October for Spring Semester, April for Fall Semester)
Audition and Interview
Admission result notification
Tuition fee payment
Letter of Admission Issuance
Visa application
Example of Admission documents:
University application form
Financial support documents including bank certificate, guarantee of finance
Academic support documents
Statement of purpose
Official high school (highest level of education) diploma (translated and notarized)
Official high school (highest level of education) transcript (translated and notarized)
Original document for proof of language proficiency (English / Korean)
Identification support document: passport copy, household registry certificate
How much does it cost to study in Korea?
Tuition
The universities in Korea charge the same amount of tuition to both domestic and international students, in order to bring more foreigners to study in Korea and to create an international academic environment.
Private universities are more expensive than public universities. Programs like Medicine, Engineering etc. cost much more than humanity programs. Except tuition fee, newly enrolled students also need to pay a one-time entrance and/or enrollment fee at the beginning of their program. Students usually pay once or twice per year.
The wide range of annual tuition for undergraduates is 4,000-20,000 USD, depending on universities and programs,  with an average of 11,000 USD. Scholarships are available majorly offered by universities and also from government entities. The chance to get one that covers a part of the tuition fee is rather good, but you will need some money of your own to pay for the remainder of the tuition fee and to prove that you have the funding needed to get a student visa to Korea.
Language programs are more affordable, with a cost of 1,300-1,600 USD per 10 week semester.
Living costs
Relatively low living costs for food, transportation and accomodation makes studying in Korea feasible and practical. School canteens provide cheap and good quality meals at a couple of dollars. Groceries in supermarkets are not only full of options but also have very good prices. A monthly cost of 300 USD on food is reasonable if you are not too careless with your budget. Big cities like Seoul and Busan have good public transportation networks, efficient, cheap and environmentally friendly. Public transportation is cheap, if you stay in the city where you study you will get by on a couple of dollars per day. Internet and mobile service is of high speed and low rate. International Students Medical Insurance is mandatory, see our recommendations below.
Korean language and TOPIK-test
Korean language and Hangul
Korean (or Kugo as it is known in Korea) is the first language to both South and North Korea, and the Korean ethnicity living in Northeastern China. The Korean alphabet Hangul was scientifically invented in the 15th century and is often claimed to be the most logical alphabet ever created. There are 24 letters in Hangul, 14 consonants and 10 vowels. Consonants and vowels compose syllables. A word consists of a few syllables. Hangul is relatively easy to learn and once you have mastered it you will be able to read Korean words even if you don't know what they mean.
Like the other East Asian languages, Korean is not an easy language for Westerners to learn. But if you dedicate a year to study the language at a Korean university KLI you should learn enough to fulfill the entry requirements for degree programs as we will write about below.
The TOPIK-test and entry requirements
Korean universities request a certain level of Korean language to admit students for degree programs. You must pass TOPIK (Test of Proficiency in Korean) level 3 or higher for undergraduate programs, and TOPIK level 4 or higher for graduate programs. If the program you will take is 100% taught in English it can be enough to show a TOEFL result instead, but beware that many degree programs include some courses taught in Korean even if English is the primary language of tuition.
TOPIK is a comprehensive Korean Language test including reading, writing and listening. The test is designed to measure the language ability of foreigners who speak Korean as a foreign language and want to use it for academic and professional purposes. There are three levels of the test, and two grades in each level, from Level 1 at the lowest to Level 6, the most advanced level. The levels are roughly equvalent to the European Framework levels A1-C2. There are 6 tests held in a year.
In general 1 level equals 10 weeks of studies in a KLI, so it takes three quarters/9 months to get to TOPIK level 3, the minimum level for university admission. However, we recommend beginners to take at least one year if you want to continue on the undergraduate program afterward to make sure you reach level 3 and also make your undergraduate studies easier. Our partner Konkuk University offers scholarships to degree students based on their TOPIK results.
You can find test dates, locations and more information at topik.go.kr.
Student visa to study in Korea
Many nationalities can take a short language course in Korea for up to 90 days on visa waiver. Some nationalities can even extend this with another 90 days. Read more about visa free entry to Korea.
If you want to study in Korea for a longer period of time you will need to apply for a visa, usually a student visa. This procedure starts with applying to and becoming accepted by a school in Korea and pay for your tuition fee. The school will then send you the documents you need to apply for and get your visa from the Korean embassy in your home country. Read more in our step by step guide on how to apply for a student visa to Korea.
Working as a student in Korea
To work part-time in Korea international students on a student visa must apply for a permission for certain extracurricular activity from the immigration service. Students in language courses cannot apply for it until after 6 months of study. Official approval from your school is necessary apply for the work permit.
With a permit students are allowed to work up to 20 hours per week (30 hours per week on postgraduate programs). University students with TOPIK level 3 or above have an easier time finding jobs and they can work without limitation during school holidays.
The most common part-time job is working in shops and restaurants, but those jobs can be hard to get if you don't speak decent Korean. Hourly rates for a simple job like a waiter or cashier is about 9000 won - 10,000 won (about $8 USD). Jobs as a tutor or English teacher pays better and are also popular among international students. Hourly wage is about 25,000 won - 40,000 won ($25-33). It should be noted that there are some jobs you are not allowed to take on a student visa, you are for example not allowed to work in the manufacturing industry.
Scholarships for studying in Korea
You will need your own funding to secure a student visa to Korea. However, there are some scholarships you can apply for to lower your costs on degree programs.
Scholarships in universities: it is hard to get scholarships for language courses or study abroad semesters in Korea but many universities offer some kind of scholarship opportunities for international students attending their degree programs. These scholarships are usually based on academic performance. For example our partner Konkuk University offer scholarships based on your TOPIK-result on the first semester of their degree programs. You get a 30% tuition fee scholarship if you have achieved TOPIK level 3, and the scholarship increase with 10% for every higher TOPIK level, up to 60% of the tuition fee for TOPIK 6. From the second semester and onwards, they offer scholarships from 20% to 100% of the tuition fee to students with a GPA between 3 and 4 from their previous semester.
Scholarships from Korean government: for example Global Korea Scholarship (GKS) from the Ministry of Education is the most representative one. There are also other public entities and foundations providing scholarships to certain fields and certain countries of students. To name a few, Scholarship programs from the Ministry of Culture, Sports and Tourism, Scholarship programs from the Ministry of Foreign Affairs etc. 
Most importantly, don't forget DreamStudies scholarship! You are also welcome to apply for DreamStudies' study abroad scholarship of 1000-1500 Euro if you will study in Korea next year.
For more information on how to find and apply for scholarships see our article Scholarships for studying abroad.
Insurance when you study in Korea
It is mandatory to have a student insurance when you study abroad in Korea. You must show proof of insurance before the school can send you the documents you need to apply for a student visa. Here you can find recommended study abroad insurances.
Student Housing in Korea
International students can choose to live on campus or off campus when they study in Korea. Living on campus is very convenient but living off campus gives you more freedom, so both options have their pros and cons, depending on what matters most for you.
Staying in a dormitory on campus is a good choice, if you don't mind sharing a room with another student. University dormitories are often well equipped, with plenty of facilities like a gym, study and social area, cafeteria etc. Dorm fees are reasonable, food in the cafeteria is cheap and convenient, and you can walk to your classes. In Konkuk university, a shared dorm room costs around 2 600 000 won (about 2100 USD) for a semester. One meal costs only 3,500 won (2.9 USD) in the cafeteria. With all that being said, one must be prepared to follow certain rules to live in a student dorm, from visitor restrictions, curfew, to a possible close down period during holidays.
If you treasure your privacy and freedom or if you want to choose where to live then we would recommend finding accommodation off campus. You can stay with a host family or live in a shared apartment. Find off campus accommodation in Seoul.
Can you help me to study in Korea?
Yes, we have helped students study in Korea since 2010. We and our partners can help you to choose and apply to selected universities in Korea. However, please note that we cannot help you fund your course so you will need savings to cover tuition fee and living costs. Fill out our request form and we will send you more information about studying in Korea.
Summary – how to study in Korea in 7 steps
Find a suitable school in Korea. We recommend that you start by learning Korean language if you want to study in Korea for a longer period of time, even if you want to take a degree program that is primarily taught in English. Learning Korean is the key to enjoy and succeed in your life in Korea.
Apply to your school at least 3 - 4 months before your course starts if you want to study on a student visa. Fill out an info request if you want help to choose and apply to a suitable school.
Get a student insurance. This needs to be done when you apply to the school if you prefer to have your own study abroad insurance, otherwise you need to purchase the insurance offered by the university.
Your school will then help you to apply for a student visa after the admission and tuition payment.
Book student housing. You can book the dormitory at the same time when you apply to the university. You will be able to find and book off campus accommodation after you get a visa.
Travel and arrive in Korea.
Enjoy your studies in Korea. Be prepared for an initial culture shock. So stay calm and open minded, explore and enjoy!
You will find more details in the article above. For more info on how to plan your studies see our checklist to study abroad.