Japanese Language Schools in Tokyo
Japanese Language Schools in Tokyo
Do you want to study Japanese in Tokyo? Here you will find recommended language schools, discounts and scholarships and much more information about studying in Tokyo.
KUAS Information Session
Kyoto University of Advanced Science (KUAS)
Webinar: Jun 09, 2023 4:00 PM (timezone: Europe/London)
This information session provide information about the following ・Study in Japan ・KUAS Engineering Program ・Admission Requirements and Schedules (It will cover the same topics as the session on June 4th and 8th)
I have helped students to study in Japanese Language Schools since 2006 and visited the country many times. Tokyo is by far the most popular city for international students in Japan. In this article we will tell you more about life as a student at a Japanese Language School in Tokyo.
Contents:
About Japanese Language Schools
Recommended Language Schools in Tokyo
Quick facts about Tokyo and Japanese Language Schools
Alternatives to studying in Tokyo
Why study Japanese in Tokyo?
Before answering the headline question, let us first take one step back to consider why you should study Japanese. Japanese culture is fascinating, charming and multifaceted. It has absorbed the influence from both the east and west, from ancient to modern times. The culture is expressed and interpreted by its language. Japanese people are very shy and not confident in speaking foreign languages. There are a lot of subtle ambiguities and underlying meanings in the language which are lost in translation. To learn Japanese is the most effective way to really understand this unique culture. And there is no better way to learn Japanese than at a language school in Tokyo, or another Japanese city.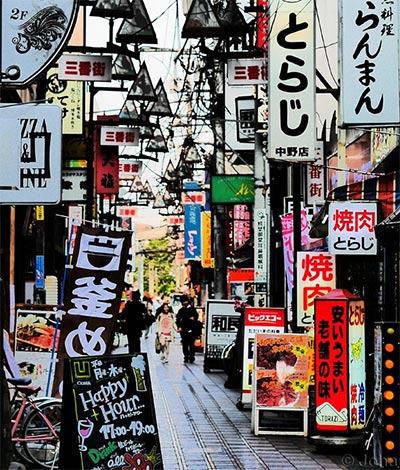 What makes Tokyo stand out as the most popular destination for international students in Japan? Tokyo has everything to offer and Tokyo is everything that you look for. Some students even refer to Tokyo as one big amusement park. It is a foreigner-friendly city with tons of opportunities for study and work. No other city can make a close match to the overwhelming diversities and options Tokyo offers. You can get the most out of your student life in this magical capital city.  
It is a very safe city. No other big city is as safe as this mega-city. Its amazingly low crime rate makes the city safe to walk 24/7 and there is not any no-go-zone for visitors which many other big cities are infamous for. People in Tokyo are not only polite but honest and trustworthy. With its extensive public transportation network, you can reach every corner of the city effortlessly. And in spite of being one of the biggest cities in the world, Tokyo has many small cozy streets that are very walkable.
Tokyo is said to be the most expensive but at the same time the cheapest city in Japan. Tokyo has countless shops, restaurants and all kinds of services one can think of. The quality of food, merchandise, and service is very good, and the lowest level is much higher than in almost all other countries.
Tokyo is also undoubtedly the most international city in Japan where most foreigners live and visit. There are a lot of signs and announcements in English making it easy to get around. The city is also home to hundreds of colleges and universities, and many language schools that we will soon have a closer look at.
Tokyo is the economic center of the country, where most Japanese companies' HQ is based. It is an organic labyrinth with sights everywhere at the corner, landmark architectures like towering skyscrapers, neon lights in commercial areas, shrines and temples, traditional gardens and teahouses, various kinds of museums, eccentric young characters in electric town and fashion districts, a beautiful bay area and long rivers running through the city. One can immerse oneself in its traditional culture and modern technology, fully experience the culture of the country in a short period of time.
About Japanese Language Schools
Most Japanese language schools have precollege status and primarily admit students graduated from high school or above. There are two tracks for students to take. Long term or short term study. On long term courses, the school will sponsor a student visa for the students who want to study from half a year (20 weeks study) and to 2 years (80 weeks). Students with a student visa can work while studying, for up to 28 hours per week. 
Short term courses are usually offered from a couple of weeks up to 3 months. Short term students come to Japan on a 90-day visa waiver or a tourist visa. On short term courses, some schools admit younger students that are still in high school, especially during the summers. 
Traditional Japanese Language Schools give four semesters per year. Each semester is 10 weeks long and the long term courses start in April, July, October, and January with about two weeks break between semesters. 
Language school students can choose to continue their education in colleges and universities or find jobs if they prefer to live in Japan for a longer period after the language study. For more details see our article: Study in Japan
Recommended Language Schools in Tokyo
We have visited and worked with many Japanese language schools in Tokyo over the past 14 years. Here you can find a list of some excellent Japanese Language schools that we are currently recommending and partnering with. Many of the schools offer special discounts and scholarships to students that contact them through DreamStudies. Fill out our information request form to become eligible for our discounts and get help to find a suitable language school in Tokyo. 
Samu Language School - study with Asian students and get help to find a job
Located in Shin Okubo, Tokyo's Korean Town, where Japanese culture and Korean culture bridge and mix. It is walking distance to popular Shinjuku, the epic-center of Tokyo's urban area. Samu Language School offers dedicated support to students who are interested in a part-time job or even consider finding a job afterward. 
The school has a good mixture of Asian students with helpful and friendly faculty and staff. For adventuresome Western lone wolfs, this is the ideal environment for you to immediately immerse in Asian culture and to quickly practice and improve your Japanese language. Samu offers DreamStudies' students a dedicated discount: 70000 Yen on long term courses to students from Europe, Oceania and the Americas, 15000 Yen to other nationalities, and 10000 Yen on short term courses for all nationalities.
Read more about Samu Language School
Waseda BK Japanese Courses - 50% scholarship on one-year courses!
Waseda Bunkakan is a Japanese language school in Tokyo that aims to make persistent efforts in satisfying the individual needs of the students. They offer a university preparatory course, a regular course, and a course in business Japanese for students with a Bachelor's Degree who wants to find work in Tokyo.
Waseda BK has a spacious campus which is not common for Japanese language schools in the center of Tokyo. The school is located a 10 min walk from the animation district of Akihabara, in the traditional Japanese area of Asakusa. Right now they have offered a fantastic scholarship on their one-year courses to Western students from DreamStudies. You can save approximately 4000 USD/3600 Euro on a one year course. This is most likely the best deal you can find in a Tokyo language school.
Read more about Waseda BK and their scholarship
Genki Japanese and Culture School - small classes and flexible course dates
GenkiJACS is the perfect school for short term courses in Japanese. They have a maximum of 8 students per class (most Japanese Language schools have 20) and they offer flexible start dates and course lengths. The school is specialized in teaching communicative Japanese with a strong emphasis on real-life skills, aimed at foreigners who want to learn the language while experiencing the culture.
Apart from language courses, the school also offers culture-oriented classes, both traditional and pop culture. Their Tokyo campus has a great location in the heart of the Shinjuku district. They also have campuses in Fukuoka and Kyoto so it is possible to combine different destinations and experience different parts of Japan when you study with GenkiJacs.
Read more about GenkiJACS
Shinjuku Japanese Language Institute - a ministry approved school
Shinjuku Japanese Language Institute in Takadanobaba in central Tokyo is one of few Japanese Language Schools approved by the Ministry of Education as a college prep school and by the Tokyo Metropolitan Government as an educational foundation. This gives them a higher status than many other language schools in Japan and their students can get discounts on public transportation in Tokyo.
It is a highly regarded school with a unique teaching method. The school provides multilingual support including English, Chinese, French, Vietnamese, Russian, and they have scholarships that their enrolled students can apply for. Apart from the usual short and long term courses they also offer a popular summer course. Students who make an info request through DreamStudies get a discount of 10000-30000 Yen depending on the selected course.
Read more about Shinjuku Japanese Language Institute
ISI Japanese Language School
International Study Institute (ISI) is the educational institution that was awarded the ST Star World Language School of the year 2017. The school excels in Japanese language teaching, by providing both intensive general Japanese courses and elective lessons to meet different needs. 
Their Tokyo Campuses are located in Takadanobaba and Ikebukuro. Then they also have campuses in the laidback mountain city Nagano, and traditional Kyoto. 
Read more about ISI Japanese Language School
Kyoshin Language Academy
Kyoshin Language Academy is the largest language school group in Japan with campuses in 11 locations including Tokyo, Nagoya, Kyoto, Osaka, Kobe and Fukuoka.
Their Tokyo Campuses Kyoshin OLJ Language Academy are located in the Ikebukuro and Otsuka area.
Read more about Kyoshin Language Academy
Tokyo Sakura International School
Do you want to study in Tokyo or do you want to study in a smaller place closer to nature with lower living costs? At Tokyo Sakura International School you can do both! The school is located in Tama City only 30 minutes train ride from Shinjuku Station. Tama city is filled with beautiful nature, mountains and rivers which you can't experience in central Tokyo and there are plenty of shops, cafes and restaurants in the area. In Tama, living costs are much lower than in central Tokyo, so it is really affordable for students.
Read more about Tokyo Sakura International School
Student housing in Tokyo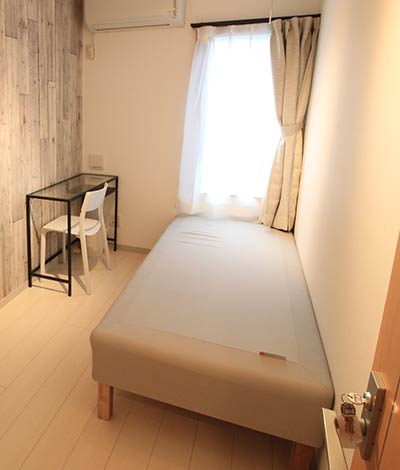 Housing is a tricky topic. This might be the area where Tokyo is less impressive. With its limited space and condense population, cheap accommodation with good standard is hard to find. Most student housing at decent prices offer small rooms with very simple standard. The AC is your lifeline to correct the unpleasant indoor climate in summer and winter.
Here we present three good options for language school students, or other students and long term visitors, in Tokyo. Students can choose between homestay, share house, and private apartment:
Homestay
Living with a Japanese host family is a great chance to get an insight into the real Japan. You can stay with a Japanese family during your study in Japan. This way you maximize your Japanese language and culture immersion experience. The host families also provide both breakfast and dinner (optional) which makes your life a lot easier and you get to try the Japanese home cooking, healthy and tasty. The standard of living is usually better than in share houses and student apartments. On the downside, you must be prepared to commute since Tokyo is a very big city and most Japanese families live on the outskirts of town. Rush hour commute can be a bit of a pain but it is also a must to experience when living in Tokyo. Some language schools also offer the possibility of afternoon classes so you can avoid the worst rush hour in the morning.
Read more about Homestay in Tokyo 
Share House
If you are looking for an international experience where people from different backgrounds live together,  Share House is an ideal option. Share houses are usually fully furnished, where you get your own bedroom and share the bathroom, kitchen and common areas with other residents. Share House is the cheapest option for mid-long term stay in Japan. They are often quite centrally located. But be prepared for a small room and a busy and less neat kitchen and bathroom can be challenging if you care about tidiness and privacy a lot.
Read more about Share Houses in Tokyo
Student apartment
Are you thinking about a spacious apartment with a kitchen, bedroom and living room? Stop right there! In Tokyo a student apartment usually means 12-20 square meters and compact living with a kitchenette and a unit bathroom with shower. For language students, we recommend equipped studio apartments with basic furniture and electronics. To live independently and have your own privacy in an apartment in Tokyo can be appealing. But be aware that apartments come with long contract periods and they cost more than staying in a Share House.
Read more about student apartments in Tokyo  
Quick facts about Tokyo and Japanese Language Schools
| | |
| --- | --- |
| Tokyo population: | 13 900 000 |
| Greater Tokyo Area population: | 38 100 000 |
| Foreign residents in Tokyo: | 550 000 |
| International students in Tokyo: | 115 000 |
| Japanese language schools in Tokyo: | 242 |
| Japanese language school students in Japan: | 90 000 |
| Tokyo links: | |
Alternatives to studying in Tokyo
Japan has a lot more to offer than Tokyo. A couple of hours on the Shinkansen bullet train will take you down to Japan's other big city region Kansai. If you look for authentic traditional Japanese culture, are interested in old temples and shrines, nowhere can beat the Kansai cities of Kyoto and the nearby city of Nara. 
If you want to try something else but still experience life in a big Japanese city then Osaka, one hour from Kyoto, is a natural choice. The Kansai hub, home to many famous Japanese comedians and Japanese famous street food - Takoyaki (octopus fritters) is equally full of excitement and has much to explore and discover. There are also many other amazing Japanese cities ideal for leisure and nature experiences.  If you want to study outside of Tokyo we can recommend the following Japanese Language Schools and universities:
Japanese Communication International School in Osaka
Located in the heart of Osaka, offering a great variety of classes, with a good mixture of students from over 30 countries, providing students heavily subsidized medical care at the clinic from school's group company, and available part-time job hunting support makes the school outstanding and unique, a worthy choice if you decide to learn Japanese in Osaka.
Read more about JCom Osaka 
Kyoto University of Applied Science
For language studies in Kyoto we recommend GenkiJACS and ISI listed above. However, if you are into engineering we can strongly recommend Kyoto University of Applied Science who offers leading programs in mechatronics taught entirely in English.
Read more about Kyoto University of Applied Science
Yamanashi Gakuin University
While not a language school we also want to mention Yamanashi Gakuin University where you learn Japanese as part of a four year Bachelor program while you study other subjects in English. Choose between majors in Global Business and Economics, Political Science, Interdisciplinary Arts or Japan Studies.
The University is located in the mountainous Yamanashi Prefecture at the foot of world-famous Mount Fuji 2 hours by train from Tokyo. This is the perfect place for students that love nature and smaller towns but still want to explore the splendors of Japan.
Read more about Yamanashi Gakuin University
More information