Study in Europe
High-ranking universities, safe countries, reasonable tuition fees, and interesting culture. There are many reasons to study in Europe. Here we answer all common questions.
We are based in Stockholm, Sweden. We have over 20 years experience of in helping international students to study abroad in Europe, and we are experts in the European study abroad market in this article we will have a closer look at:
Popular countries to study in Europe
Scholarships to study in Europe
Student visa to study in Europe
Working as a student in Europe
We can help you to study in Europe
Recommended schools and universities in Europe
Why study in Europe?
There are many reasons to study in Europe:
High ranking universities: according to Times Higher Education University World Rankings 2022 over one-third of the highest-ranking universities in the world are based in Europe, including the number one school in the world, the University of Oxford. Many high-ranking universities can be found in countries like the UK, Germany, the Netherlands, and Switzerland. But top 100 schools can also be found in France, Belgium, Sweden, and Denmark.
Low tuition fees: tuition fees in Europe are lower than in America and Oceania. Do you think college tuition in the US is too expensive? Consider studying overseas instead, it is usually cheaper for an American student to study in Europe than to study out of state in the US. Students from EU countries have the most favorable prices and can study for free in some countries in northern Europe. However, many of the cheapest programs are only available in the native language.
Safe countries: European countries are generally much safer than the Americas, Africa, and Southeast Asia. Crime against international students is rare so you don't have to worry. Just use common sense if you study in a big city.
Easy to get around: public transportation is good in most parts of Europe so you don't need a car to get around. A Schengen student visa allows you to travel freely within the Schengen countries (most of mainland Europe) so you can explore many European countries without applying for additional visas.
Culture: the old world offers many sights including stunning architecture, charming old streets, gigantic churches, and famous landmarks such as the Eiffel Tower. Southern Europe has some of the best food in the world. In Europe, there is always something new to explore.
What can you study in Europe?
The most popular programs for international students in Europe are:
Popular countries to study in Europe
The United Kingdom
England and the United Kingdom are one of the most popular countries to study abroad in Europe and the world. Here you find some of the highest-ranking universities in the world and an abundance of programs in English. Study in a world city like London, other big cities like Liverpool or Manchester, or smaller towns like Bournemouth or Leicester. The only drawback with studying in the UK is that the tuition fees are higher than in the rest of Europe, not least for EU students who have to pay as much as other international students after Brexit. Expect to pay from £10000-30500 GBP per year in tuition fees (medicine costs more).
You usually apply to UK universities through UCAS. This can be a bit complicated. However, we have a partner who can help you apply to all universities in the UK. Fill out our info request form to get help, and read more in our article about studying in England, Scotland, and Wales.
Ireland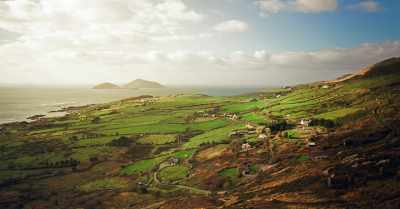 Next to the UK, Ireland is the European country that offers most programs in English. While they don't have as high-ranking universities as the UK, they do have lower tuition fees, not least for EU students who usually only pay a student contribution fee of 3000 Euro per year. For non-EU students prices usually start from 9000 Euro/year in public universities.
We have a partner who can help you apply to universities in Ireland. Here you can find a list of schools and universities in Ireland.
German
Germany has many high-ranking universities and they are one of the European great powers. With a location in the center of Europe Germany is the perfect base to explore the European continent. German is a Germanic language, just like English, so the language is not so difficult to learn for those proficient in English or other Germanic Languages.
Germany charges the same tuition fees for all international students. Programs taught in German are almost free (with just a small administrative charge each year). However, programs in English are usually taught by private universities where you will have to pay a tuition fee, usually 6000-12000 Euros per year.
We can help you with German Language schools in Germany if you want to start by learning the language. We can also help you with programs in English at selected colleges and universities in Germany.
The Netherlands
The Netherlands is another country with many high-ranking universities. The Dutch people are one of the best second language English speakers in the world. EU students usually don't pay more than 2000 Euro/year to study there, while international students should be prepared for tuition fees ranging from 6000-20000 Euro/year.
Currently we can only help you with crash courses in web and ux in the Netherlands.
France
France is one of the great European nations, and Paris is one of the most popular cities in the world, filled with wonders and fascinating buildings and history every way you look. French cuisine and wine are world-famous. If you enjoy life and culture, France is the destination for you.
If you want to stay in France for an extended period of time we would strongly suggest that you start by learning the French language at a language school. Knowing the language makes life a lot easier and the locals really appreciate it when you speak to them in French instead of English.
Public universities primarily teach in French, with very low tuition fees for all students – usually only some hundred Euros per year. However, programs in English are available. You can for example study International Relations or Political Science at undergraduate or graduate level in English at ESPOL The European School of Political and Social Sciences in Lille for tuition fees of €3115 to €9610 per year based on your family's income.
Here you can find a list of all universities in France. Read more in our article Study in France.
Spain
Spain is one of the most popular study abroad destinations in Europe, not least Barcelona, the city that has it all – beaches, shopping, great restaurants, and Europe's best nightlife. Other popular study destinations are the capital Madrid and coastal cities such as Valencia, Alicante, Malaga, and Marbella. In Spain, you can take Spanish language courses, Study Abroad-semesters, or a full degree in Spanish or English.
Tuition fees at public universities in Spain are relatively low, approximately 1000-3500 Euros per year. At private universities and colleges where all programs are taught in English, you should expect tuition fees of 10000-20000 Euros per year.
We can help you choose and apply to selected schools in Spain. We can also recommend our article Universities in Spain for international students.
Italy
Italy is another country well known for its culture, history, food, and beautiful nature with picturesque villages seemingly climbing out of the ocean and up the mountainsides. Italy is a great place to study fashion and design, not least in the fashion capital Milan in the north. However, just like in France we would recommend that you start your stay in Italy by learning the language. This will make life in Italy much easier and give you a much better understanding of the fascinating Italian culture.
We and our partners can help you to selected universities and language schools in Italy.
Greece
An ancient culture, low living costs, and a great climate. What is there not to like about Greece. Here there are several colleges that are fully integrated with the British or American Education system, but with Greek tuition fees.
Take a degree in English in subjects like Business, Psychology, Computer Science, Hospitality, Education, Literature, or Political Science & International Relations at the American College of Thessaloniki or City Unity College in Athens.
Portugal
While being one of the smaller countries in Europe, Portugal and Portuguese have had a big influence on the world stage. Nowadays this country on the Atlantic coast is probably best known for their successful football team. But like the other countries in southern Europe Portugal offers a relaxed lifestyle with a warm climate and great food.
Here we can help you with exchange semesters in English and crash courses focusing on Web and IT. Read more about studying in Portugal.
Hungary and Eastern Europe
Eastern European countries like Hungary offer many programs in English. Living costs here are much lower than in Western Europe.
Education-wise they are most well known for their medical programs where you can get degrees that are recognized in all EU at a reasonable price of 10000-20000 Euros per year. It is easier to get into medical programs here than in the Western world.
One of the most famous medical schools in Eastern Europe is WHO recognized the University of Debrecen in Hungary. The university was founded already in 1538 and they teach many programs in English.
Russia
The Western part of Russia, including Moscow and St Petersburg, also belongs to the European continent, even though they are not a part of the EU, or Schengen and stand quite far from the other European countries politically. However, culturally Russia is a rich country with an intriguing history and many famous authors.
There is no better way to understand the Russian giant than to study the language at a Russian language school. We also have a partner who can help you apply to selected Russian universities that teach some programs in English. Read more about studying in Russia.
The Scandinavian countries
The Nordic countries always rank very high for happiness and life quality. If you don't mind the long winter, we can really recommend going for a Scandinavian adventure. Get away from overpopulated areas and enjoy living close to nature. Nordic people are friendly and very good at English. Tuition fees are reasonable, it used to be free for everyone, but the system got overloaded so now they have to charge fees for non-EU students. But EU students can still study here free of charge. In Norway, all students can study for free. However, most programs are only taught in Norwegian, especially at undergraduate level in public schools.
We can help students from all over the world to study at IBA International Business Academy in Denmark and we have a partner who can help help non EU students to study in Sweden, Finland, and the neighboring countries. Read more in our article: Study in Scandinavia
Switzerland
Switzerland is not a member of the European Union, but they are part of Schengen, where you can travel freely between 26 European countries.
Switzerland is known for Swiss Hospitality and its world-class Hotel Management Schools, like B.H.M.S. Business and Hotel Management School in Lucerne.
Read more about studying in Switzerland.
Scholarships to study in Europe
Scholarships are not as common in Europe as in the US or Australia, since the tuition fees are lower here – especially for EU students. However, many countries have national scholarships that international students with a proven need for financial aid can apply for.
You can also apply for DreamStudies' scholarships to selected schools in Europe. Each year we hand out the following scholarships:
A language course scholarship worth 1000 Euro
A study abroad scholarship worth 1000 Euro
A degree scholarship worth 2000 Euro
The biggest chance to get a scholarship is from the school you will study at. Here we list scholarships and discounts from our partner schools in Europe:
Read more in our scholarship guide for study abroad students.
Student visa to study in Europe
Students from other EU countries don't need a visa to visit, study or stay in another EU country. However, non-EU students will need to apply for a student visa to the European Union.
Please note that the United Kingdom is no longer part of the European Union so if you want to study there you will need to apply for a student visa to the UK.
Working as a student in Europe
EU-students can work unlimited within other EU-countries. Other students will have to adhere to the work conditions on their visas. It depends on the country and the specific conditions of your student visa. In general, many European countries allow international students to work a certain number of hours per week during their studies, but the exact rules and restrictions may vary.
For example, in Germany, students with a student visa can work part-time up to 120 full days or 240 half days in a year. In Sweden, Spain, and Ireland, students can work up to 20 hours per week during term time and full-time during holidays, as long as it does not interfere with their studies.
However, some countries may have more restrictions on student employment or require you to obtain a work permit or special insurance before you can work. Additionally, it is important to note that the primary purpose of a student visa is to study, and working should not interfere with your studies. Different rules can also apply to different nationalities. Therefore, before starting to work, it is important to check the specific conditions and restrictions of your student visa in the country where you plan to study. It is also advisable to check with the university or school you plan to attend for any additional guidance or requirements related to student employment.
Insurance to study in Europe
EU students with the European Health Insurance Card get access to necessary healthcare at the same cost as citizens of the country of study in other EU countries. However, the card only covers health care so we still recommend getting a good study abroad insurance. For non-EU students this is mandatory.
We can help you to study in Europe
Together with our partners, we can help you to all universities in the UK and Ireland, and many language schools and universities in the rest of Europe. Fill out our info request form to get help to study in Europe.